We're still working out the details, but here's an overview of what we have planned for you so far.  Check back for updates as the date draws closer.
Welcome Reception and Happy Hour at the Kinzie Hotel

Meet your favorite podcasters and mingle with fellow attendees in a festive atmosphere.
Check-in and Morning Sessions
Light breakfast provided
Afternoon  Sessions
Afternoon sessions end with a keynote from our featured speaker Michael Michalowicz!
Chicago River & Lakefront Boat Cruise - Architectural Tour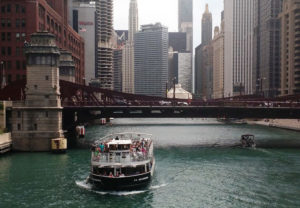 Join Michael Michalowicz and fellow attendees aboard a historic Chicago tour boat! Receive an autographed copy of Mike's book, visit with our sponsors, and enjoy the Chicago skyline architecture tour with your peers.
The tour ends at Ogden Slip, where we can hang out at Pinstripes for dinner and drinks. You can stay here or continue your Chicago excursion; you are now just steps away from iconic Navy Pier and the Saturday night fireworks!
Morning Sessions
Light breakfast provided
Afternoon Sessions
Formal sessions will end early so you have time to catch your flight, but we will have activities scheduled through the end of the day on Sunday.